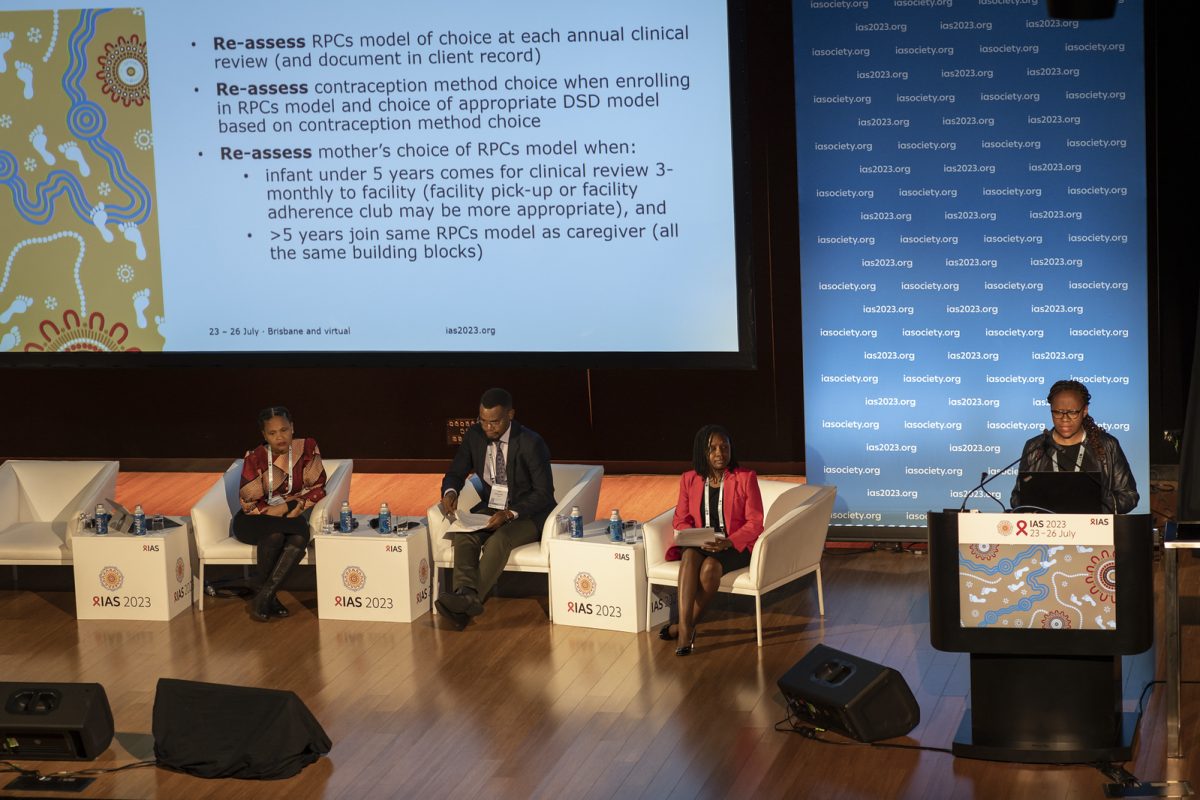 Dorlim Moiana Uetela, Instituto Nacional de Saúde, Mozambique writes:
The current state of differentiated service delivery (DSD) for HIV prevention, testing and treatment was extensively discussed at IAS 2023, the 12th IAS Conference on HIV Science, held in Brisbane, Australia, from 23 to 26 July 2023.
The satellite session, "DSD model transitions: Supporting the evolving care needs of people living with HIV", highlighted person-centredness as the governing DSD principle. To attain this principle, a dynamic healthcare system that acknowledges that health needs evolve and provides flexible responses is required. The national HIV programmes of Mozambique, South Africa and Zimbabwe shared case studies with innovative solutions to facilitate transitions between DSD models. Flexibility of the health system was also identified as crucial to optimal care and discussed in the satellite session, "Person-centred approaches to address the health needs of people living with HIV and co-infections and co-morbidities".
Thematically, the oral abstract sessions on DSD were dominated by pre-exposure prophylaxis (PrEP), with abstracts focusing on the feasibility and acceptability of innovative strategies (South Africa, Uganda, Vietnam, Zimbabwe) and on promising implementation results, for example, from Kenya, Vietnam and Zambia. In the oral abstract session, "Show me the money: The cost of epidemic control", the eight DSD models for HIV treatment implemented in Mozambique were found to be more effective in retaining clients on ART and less expensive to the health system and clients than the standard of care. In the oral abstract session, "From silos to solutions: Embracing integration for better health outcomes", integration with HIV care services resulted in better control of blood pressure among clients in Tanzania and Uganda, increased cervical cancer screening and linkage to care in Tanzania, and expanded hepatitis C screening and treatment among people living with HIV in Nigeria. Abstracts on DSD science reaching key populations included "Differentiated online-to-offline (O2O) interventions for HIV services: impacts on HIV testing and case finding among key populations in Thailand, Nepal and the Philippines", which demonstrated the impact of the intervention on HIV testing and case finding across the three countries.
Symposia on DSD discussed community-led models, mHealth and machine learning techniques, the scaling up of long-acting antiretroviral therapy and PrEP, and integrated HIV and sexual and reproductive health and rights services.
Discussions at IAS 2023 gave much attention to the delivery of long-acting antiretroviral therapy and PrEP. However, it was great to see that DSD sessions also covered topics that are crucial for upholding its principles and confirming its relevance in achieving high-quality, convenient, accessible and comprehensive care for people living with HIV. This is especially important in the current context where interventions such as multi-month dispensing of antiretrovirals are considered the new standard of care. In addition to enabling effective transitions, integrating services, and investing in new technologies and the best treatment delivery and prevention strategies, the key take-home message of IAS 2023 is to continue keeping the client at the centre of the HIV response.