Six-step approach
The six-step approach guides ministries of health and supporting partners in planning how to differentiate HIV testing services (HTS):

To support this process, several annexes are available for download here.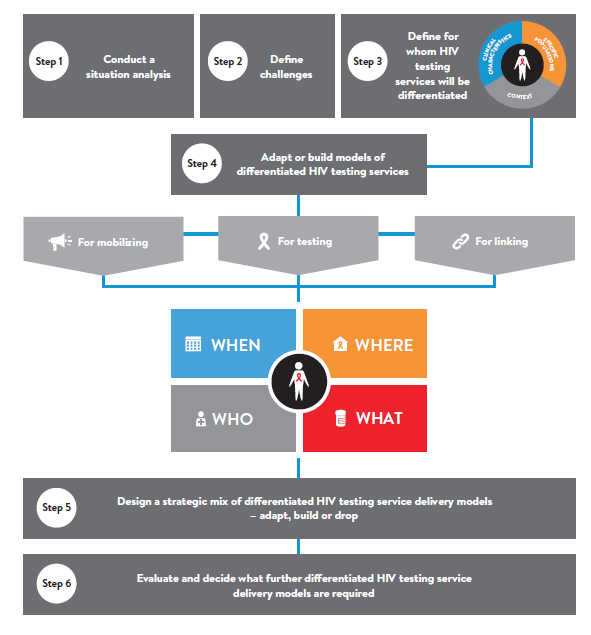 STEP 1: CONDUCT A SITUATION ANALYSIS
Before deciding on the strategic mix of differentiated HIV testing services, a situation analysis must be completed.
A strategic mix of approaches to DSD for HIV testing is required to increase the proportion of people living with HIV who know their status. The goal of this mix is to facilitate the diagnosis of as many people living with HIV as possible as early as possible, maximizing yield, efficiency, cost effectiveness and equity.
The situation analysis should identify the gaps in achieving the first 95 in the 95-95-95 UNAIDS targets for both geographical coverage and coverage by specific populations, and assess how existing testing strategies are addressing these gaps.
This analysis should consider the three core components – mobilizing, testing and linking – that compose a successful model of HIV testing. See Annex 1
In addition, the analysis should include:
Data related to the epidemiologic context
Data on access and coverage of HTS for general and specific populations
The existing policies (including HTS algorithm, quality control procedures and task sharing)
The service delivery models currently in place
The perspectives of healthcare workers and clients. Ideally, the national HIV programme should lead this process in collaboration with regional and district HTS coordinators and implementing partners.
Download Annex 2, a template questionnaire, to aid in conducting this situation analysis.
1.1 Assess data in order to define the best strategic mix of HIV testing models. The following data should be considered in your assessment:
Regional HIV prevalence
HIV prevalence and incidence within specific populations
HIV testing coverage of people living with HIV from population-based surveys
HIV testing coverage (ever tested and in past 12 months) within specific populations (for example, percentage of men versus women tested), targets, gaps and yield (this may be sourced from population-based surveys and demographic health surveys, specific reports and/or surveys performed for key populations)
HIV testing coverage in priority clinical areas (antenatal and postnatal care, TB, sexually transmitted infection, malnutrition and hospital inpatient department entry points)
Number and percentage of people living with HIV on antiretroviral therapy (ART) at national and regional level
At site level, analysis of routine HTS data to determine current HTS activity:

Disaggregated by age, sex and specific population
Whether testing is performed in the community or facility or is the result of index client testing
Proportion of clients retesting
Percentage positivity in different populations and through differing HIV testing service delivery models

Data on current human resource allocation for HIV testing
Where available, data on linkage from community-based surveys, national registries or through local tracing strategies
Current costs of testing strategies and, where available, costs per person living with HIV identified.
Details of further resources related to costing are outlined in Annex 2.
1.2 Assess policies
A comparison of national-level policies with current World Health Organization (WHO) service delivery recommendations should be undertaken. Steps 4's building blocks ("when", "where", "who" and "what") can be used as a frame to assess policies that will enable effective differentiation of HIV testing and linkage services.
Critical for providing differentiated HIV testing are: policies to support decentralization of HIV testing outside of healthcare facilities ("where"); and task shifting to nurses and trained and supervised lay providers, including peers ("who"). Policies to consider related to HIV testing, beyond the specifics of differentiated HIV testing, include age of consent, legal barriers that may prevent specific key populations from accessing testing, and having a validated HIV testing algorithm.
1.3 Assess the existing HIV testing service delivery models
Analysis of how HIV testing services are currently delivered is essential to decide whether an existing model should be adapted or whether new HIV testing service delivery models should be built.
Existing HIV testing service delivery models in many settings may already be differentiated to some extent. However, the coverage or field-level implementation may be limited geographically or within a specific population. It may also be that only one of the core components (mobilizing, testing and linking) has been differentiated within a testing model, leaving room to adapt the other components to improve the model – see Step 4.
An initial broad mapping of differentiated HIV testing services is recommended to determine what is being implemented in-country and with what coverage (what proportion of facilities or community structures are offering a particular model).
The mapping should be coordinated at national level and draw on subnational- and/or district-level data. It is encouraged that such a mapping exercise looks across the cascade of differentiated HIV care to maximize the use of resources rather than be carried out in isolation.
Suggested steps in the mapping include:
A desk review of existing published literature of models outside and inside the country
A review of local country and partner activity reports
A survey of district HIV coordinators and implementing partners
Selected site visits using the client-centred elements (Step 3) and building blocks (Step 4) to assess current differentiation of HIV testing services.
Annex 2 provides an outline of what may be asked to assess whether HIV testing has been differentiated.
1.4 Assess the perspectives of healthcare and community workers and target populations
Differentiated HIV testing services should be client centred. Speaking with representatives of the general and specific populations within a community about their perceptions of how testing services are currently delivered and their expectations of services will assist in the design of a differentiated HIV testing delivery model. Data on these perspectives can be obtained by attending clinic services at different entry points or with community-based organizations for specific populations using surveys, focus group discussions and/or individual interviews. Healthcare workers, including clinical staff, lay workers and peer volunteers, should be consulted.
STEP 2: DEFINE CHALLENGES
Identify the challenges that can be addressed through differentiated HIV testing.
Based on Step 1, the challenges that can be addressed through DSD for HIV testing should be identified. At this stage, it is useful to host a workshop that includes key stakeholders from the health system and civil society to achieve the following objectives:
Sensitize HIV testing coordinators and implementing partners on the background and core principles of differentiated HIV testing service delivery. (Note: Ideally, this would be carried out as an integrated review of DSD across the cascade.)
Provide an opportunity for stakeholders to present existing examples of DSD for HIV testing implemented for adults and specific populations in their settings. Existing examples should present the core building blocks ("when", "where", "who" and "what") of each testing model. If a component has not been considered, this could be a useful starting point for adapting an existing model.
Present the outcomes of the national-, regional- and/or district-level desk review and mapping exercise on HTS.
Engage stakeholders in a plan for defining country-level approaches, taking forward local or district situation analyses, and plan local implementation strategies.
It is encouraged that the mapping process and review looks across the cascade and across specific populations.
STEP 3: DEFINE FOR WHOM HIV TESTING SERVICES WILL BE DIFFERENTIATED
Use the three elements to consider the clinical characteristics, sub-population and context.
With a clear understanding of the current service delivery programme and current challenges, the three elements may be used to identify particular differentiated HTS models that should be prioritized. It should be clear what population is selected (general, children and adolescents, pregnant and breastfeeding women or specific key populations), whether they have particular clinical characteristics and what specificities of their context may alter how the testing model is delivered.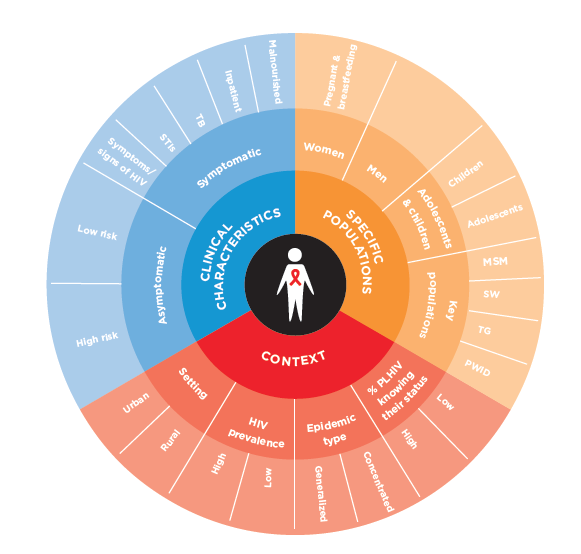 Context
In order to deliver quality person-centred HIV testing services, adaptations are required to how testing services are differentiated. In addition to the consideration of the setting, the prevalence of HIV and the percentage of people living with HIV who know their HIV status will also impact the appropriateness of different testing modalities.
Specific populations
DSD models for HIV testing should consider the challenges of specific populations and their access to the health system.
Differentiating HIV testing for specific populations can help improve access to HIV testing by addressing the structural barriers that specific populations often face.
Each specific population will require a unique and comprehensive approach to ensure access to HIV testing and linkage to HIV treatment or prevention programmes. Regular testing may be required for populations with increased vulnerability to HIV acquisition. However, frequent re-testing in the general population should be based on a clinical risk assessment.
Clinical characteristics
Mobilization efforts for provider-initiated HIV testing can be targeted at clients presenting with symptoms of HIV or conditions associated with a high HIV co-infection rate.
For those clients who are not immunosuppressed and have not presented with symptoms of HIV infection, facility- and community-based mobilization strategies will be required.
HIV testing should be integrated within clinical settings associated with high rates of co-infections. Clients attending care at these entry points should be a priority and HIV testing services should ideally be provided as a one-stop service (same day, same clinic, same healthcare provider).
Assessment of the client's risk of HIV should also be made to determine the recommended frequency of repeat testing and to prioritize the need for linkage to different prevention strategies.
To learn how to differentiate based on clinical characteristics, specific population or context, see the three elements from page 25.
STEP 4: ADAPT OR BUILD MODELS OF DIFFERENTIATED HIV TESTING SERVICES
The building blocks will help assess the needs for mobilizing, testing and linking.
In the situation analysis, certain models may already have been implemented. Based on the review of the evidence and experience from other settings, adaptations may be made to existing models to improve their uptake or efficiency. Alternatively, the model may be adapted to suit the needs of a similar specific population. When assessing existing testing services, all three of the core components – mobilizing, testing and linking – must be addressed.
Details on mobilizing, testing and linking are provided in Annex 1.
Where there is no existing HTS model for a population within a given context, a new model should be built. To do this, use the building blocks from page 33 to consider the "when", "where", "who" and "what" for mobilizing, testing and linking.
When are HIV testing services delivered (time of day and frequency of mobilizing, testing and linking)?
Where are HIV testing services delivered (location of mobilizing, testing and linking)?
Who is providing HIV testing services (the cadres performing the mobilizing, testing and linking)?
What services are provided (the package of services)?
The Table below illustrates how the building blocks, along with the three components, should be used to design an HIV testing service delivery model: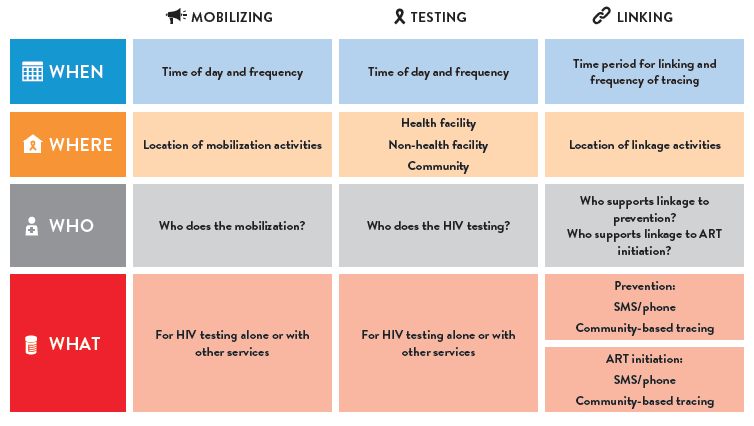 STEP 5: DESIGN A STRATEGIC MIX OF DIFFERENTIATED HIV TESTING SERVICE DELIVERY MODELS – ADAPT, BUILD OR DROP
A prioritization exercise should be performed to determine needs and timeline.
The situation analysis may identify a number of gaps in coverage of HTS involving specific populations. A prioritization exercise should be performed at the local level to determine which HTS service delivery models should be adapted or newly implemented in the immediate, medium and long term.
Factors determining this prioritization should include:
Coverage of testing in specific vulnerable populations (benefits of linking to both treatment and prevention)
Absolute number of diagnoses by testing model
Cost of specific models (cost per person diagnosed)
Yield of specific models. High-yield strategies may be more cost effective, but must also ensure sufficient coverage of testing. In settings where many existing approaches have declining yields of people testing for HIV and numbers of clients initiated on ART, alternative models should be prioritized.
Feasibility of implementation linked to available human and financial resources
Considering these issues, a strategic mix of HIV testing service delivery models, including the three components (mobilizing, testing and linking), at both facility and community level should be planned. This prioritization will assess the current resources available and lead to adapting, building or dropping some differentiated HIV testing service delivery models.
Annex 3 provides examples of the decision-making processes to determine the strategic mix.
STEP 6: EVALUATE AND DECIDE WHAT FURTHER DIFFERENTIATED HIV TESTING SERVICE DELIVERY MODELS ARE REQUIRED
Models should be monitored through routine M&E and quality improvement initiatives.
Once selected, the implementation of the differentiated HIV testing models should be monitored through routine monitoring and evaluation (M&E) and quality improvement initiatives to assess the feasibility of implementation, along with the actual uptake of testing and yield of people testing positive for HIV. Analysis of the models may lead to further adaptation being suggested or, if successful, allow for development of another model addressing a different population.
HIV testing service delivery models
Testing models can be divided into three categories – health facility, non-health facility and community. Additionally, HIV self-testing is described as its own category to highlight models that utilize this testing modality. However, it is important to note that HIV self-testing can be integrated within health facilities, non-health facilities and communities.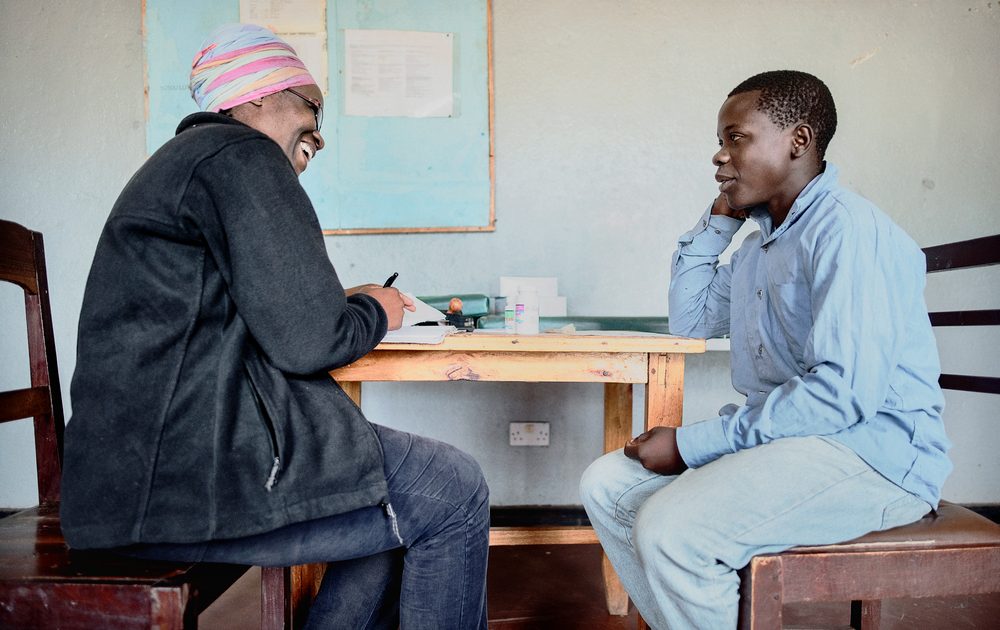 Health Facility
HIV testing occurs within a health facility and may be delivered as a standalone service or integrated into other facility health or screening services.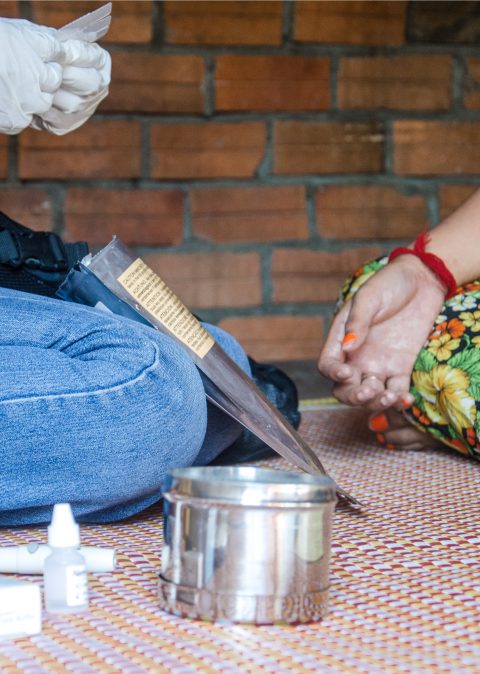 Non-health facility
Examples include HIV testing within workplaces, prisons and other closed settings, schools and education institutions and other facilities where the same population can be accessed on a recurrent basis.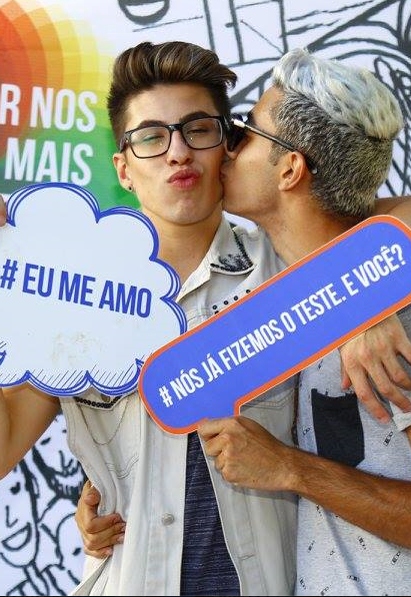 Community
This may be through home-based testing or door-to-door outreach, mobile outreach campaigns and testing in places of worship, parks, bars and other venues.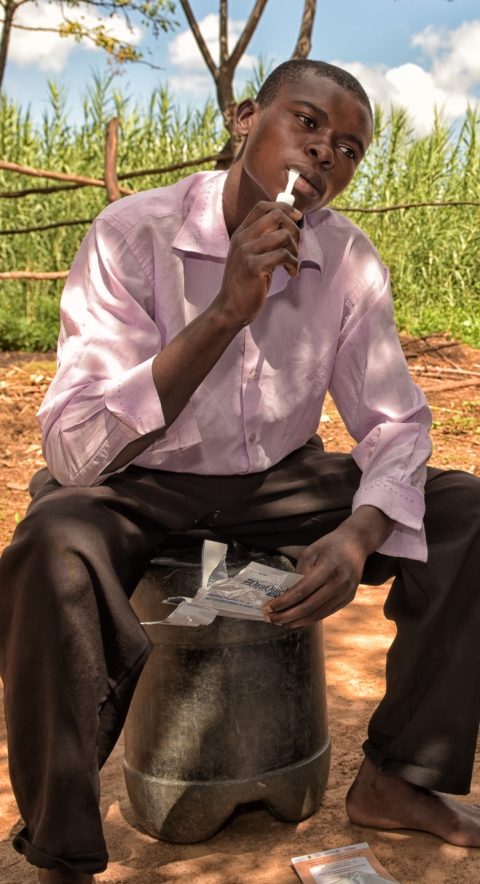 HIV self-testing
HIV self-testing should be considered as a testing modality alongside traditional testing by healthcare workers within any HIV testing delivery model.
FAQ
How are HIV testing services already differentiated?
Over the course of the HIV epidemic, different testing strategies have already been implemented. Initial strategies focused on VCT and progressed to the systematic introduction of HIV testing in ANC. The mid 2000s saw a greater emphasis on testing for key populations through mobile moonlight testing strategies alongside nationwide "know your status" campaigns utilizing mass media mobilization and door-to-door testing. From 2007, provider-initiated testing and counselling was introduced, expanding rates of diagnosis in facilities; in more recent years, we have witnessed a paradigm shift towards approaches that maximize the number of HIV positive diagnoses. Within these HIV testing services (HTS), some concepts of DSD have already been incorporated, but re-evaluation is recommended if we are to reach the first 95. In addition, with the exception of ANC testing, many such differentiated testing strategies are only implemented in pilot programmes or where implementing.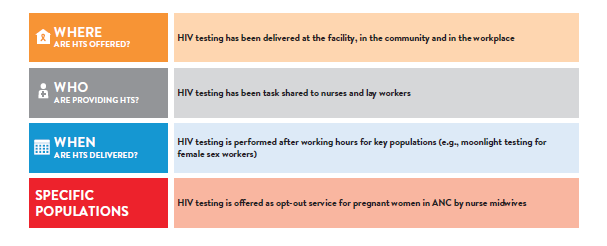 What about linking testing to prevention?
An HIV test presents an opportunity to link those with a non-reactive test to prevention strategies. Through linkage to prevention, new infections can be prevented.
UNAIDS outlines five prevention pillars and targets to reduce HIV incidence: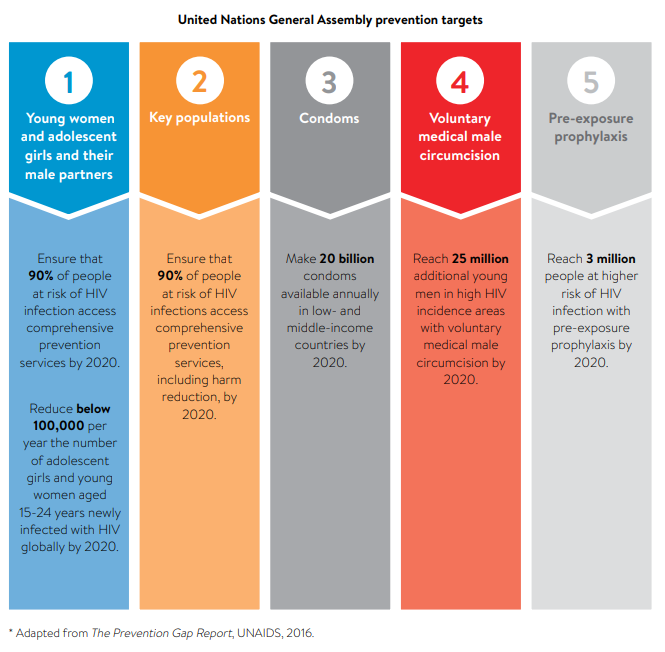 What about linking testing to ART initiation?
A specific package of screening and prophylactic interventions is recommended for those clients presenting with advanced HIV disease. Decentralization of the package and task sharing of point-of-care testing, including CD4, cryptococcal antigen testing and LAM testing for TB, allows for delivery of the prophylactic package interventions and rapid ART delivery at primary care level.
For clients who are more seriously ill, clear referral criteria should be in place. Testing services should be alert to HIV-positive clients who are repeating their test. Such patients may or may not be linked to ART services. Reasons for repeating the test should be explored along with the reasons for stopping ART where this has occurred. ART initiation should also be adapted for the increasing cohort of clients who are returning to care after a period of default. ART services should be encouraged to enquire whether clients have previously been on ART in order to address reasons for defaulting and to be alert to possible treatment resistance. The building blocks may also be used to develop models of service delivery for ART initiation – examples of the building blocks are available here from page 49.
Are there viral suppression data for differentiated ART delivery models?
Yes, there are viral suppression outcome data for differentiated ART delivery models. Currently, studies reporting viral suppression evaluate ART adherence clubs (a health care worker-managed group model) and streamlined HIV care (a facility-based individual model). A 2016 analysis of a cluster random sample of 10% of all clients in ART adherence clubs reported viral suppression of 96.8% (CI 96-97.4) at 12 months and 96% (CI 95-97) at 24 months after enrolment in a club. Viral suppression outcomes from pilots in Uganda and Kenya were 89% for adults 12 months after enrolment in streamlined care from ART start (at first visit), and 92% for children 48 weeks after enrolment. For further viral suppression data, see the summary of evidence related to these two models of care (health care worker-managed groups, facility-based individual models).
Click here to access the complete DSD framework for HIV testing services
Ask a question