Differentiated service delivery (DSD) is a person-centred approach that simplifies and adapts HIV services across the HIV care continuum in ways that both serve the needs of people living with HIV and reduces unnecessary burdens on the health system.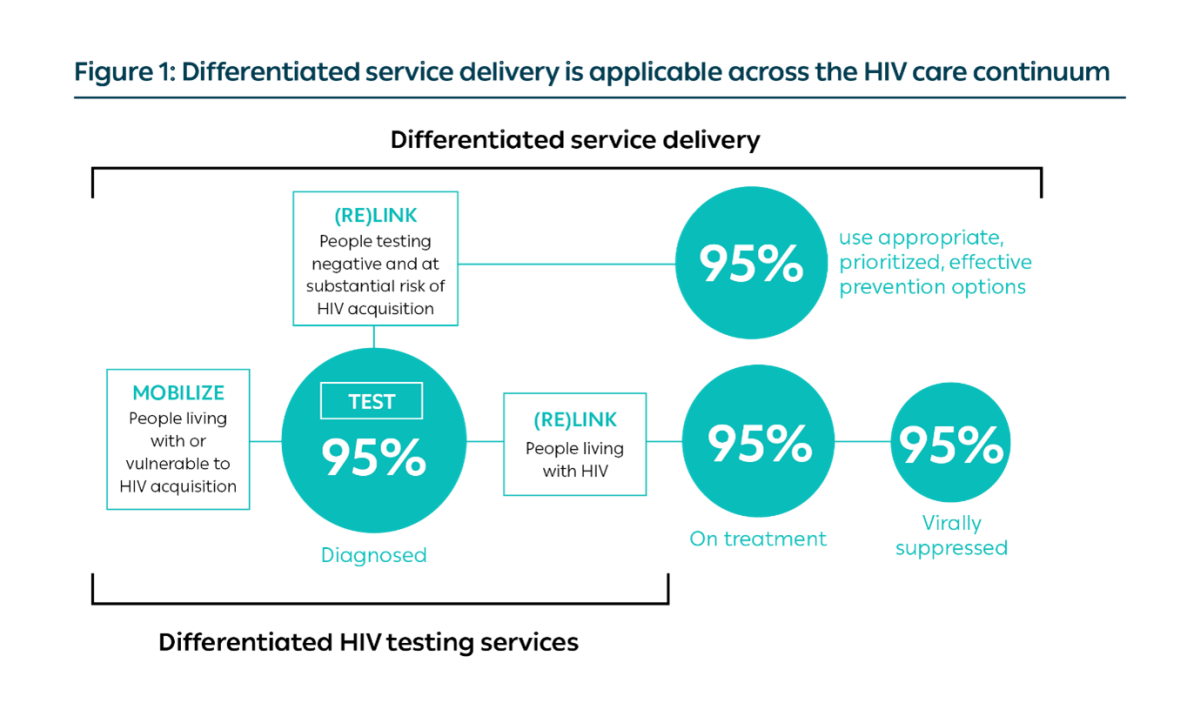 Any HIV testing service delivery model should include the following three core components: mobilizing; testing; and linking (Figure 2). When described as a service delivery model of HIV testing services, all three components are necessary and should be included in the design of the model.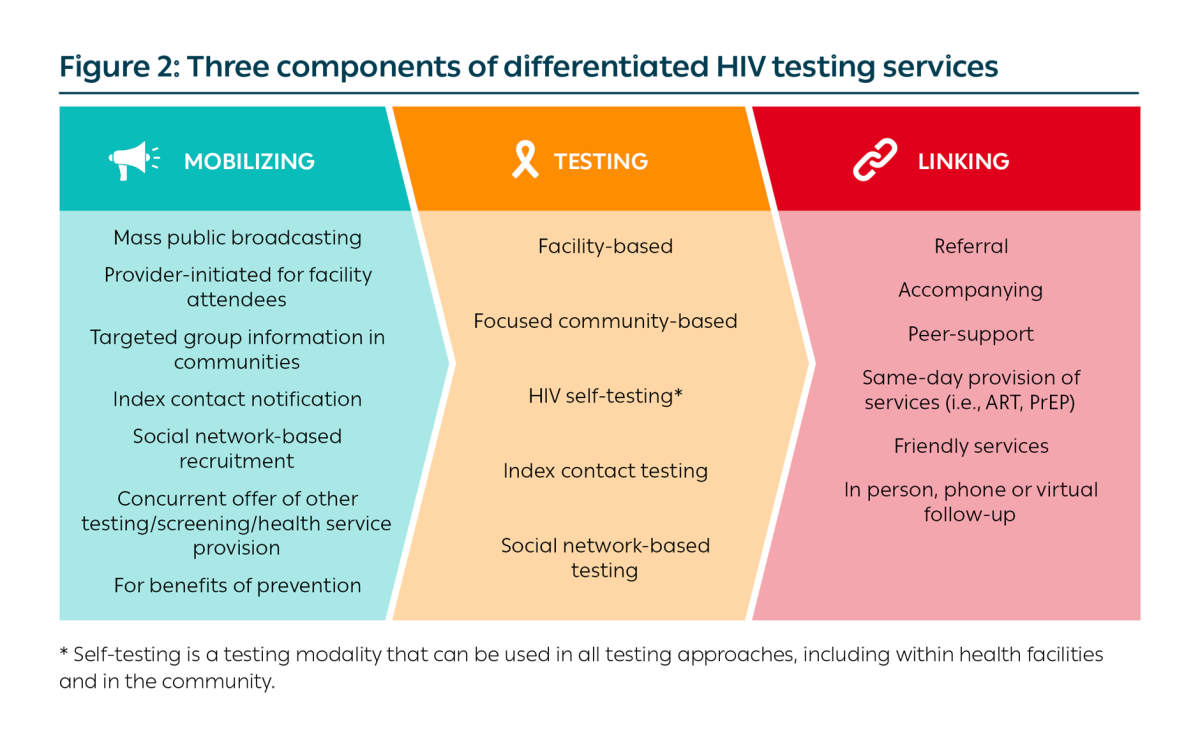 Seven-step approach
The seven-step approach guides ministries of health and supporting partners in planning how to differentiate HIV testing services (HTS):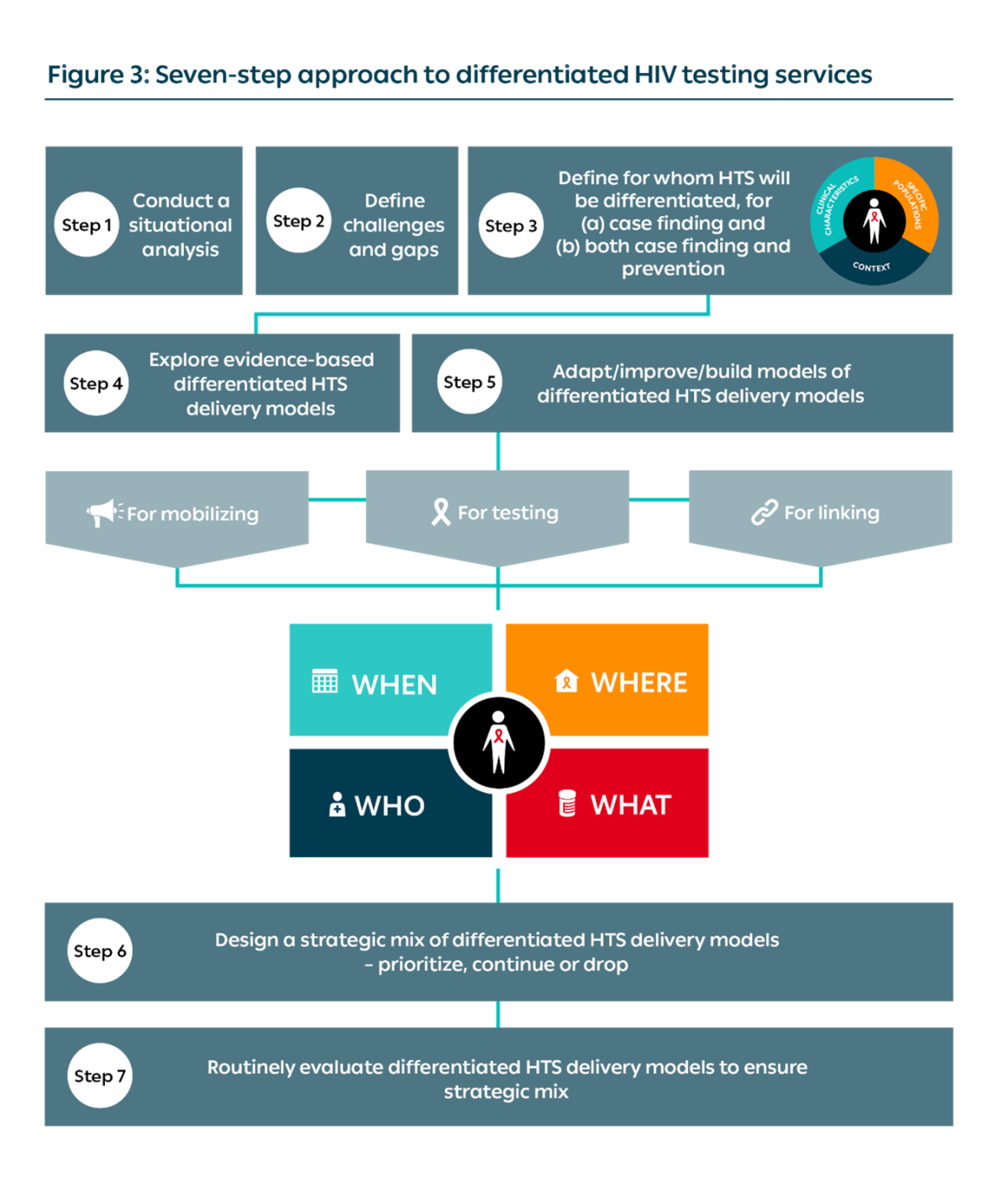 STEP 1: CONDUCT A SITUATIONAL ANALYSIS
Content under review
Before deciding on the strategic mix of differentiated HIV testing services, a situational analysis must be completed.
A strategic mix of approaches to DSD for HIV testing is required to support our HIV programmes. HTS is important for case-finding, linkage to prevention and as an entry point to returning to care.
The situational analysis should identify the gaps in achieving the first 95 in the 95-95-95 UNAIDS targets for both geographical coverage and coverage by specific populations, and assess how existing testing strategies are addressing these gaps. Details should also be provided on HIV self-testing, as well as HIV data by age and location of testing. The analysis further includes details on relevant policies and the "building blocks" for mobilizing, testing, linking, initiation, treatment and retention.
This analysis should consider the three core components – mobilizing, testing and linking – that compose a successful model of HIV testing. See Annex 1
In addition, the analysis should include:
Data related to the epidemiologic context
Data on access and coverage of HTS for general and specific populations
The existing policies (including HTS algorithm, quality control procedures and task sharing)
The service delivery models currently in place
The perspectives of healthcare workers and clients. Ideally, the national HIV programme should lead this process in collaboration with regional and district HTS coordinators and implementing partners.
Download Annex 2, a template questionnaire, to aid in conducting this situational analysis.
STEP 2: DEFINE CHALLENGES AND GAPS
Content under review
Identify the challenges that can be addressed through differentiated HIV testing.
Based on Step 1, the challenges that can be addressed through DSD for HIV testing should be identified. At this stage, it is useful to host a workshop that includes key stakeholders from the health system and civil society to achieve the following objectives:
Sensitize HIV testing coordinators and implementing partners on the background and core principles of differentiated HIV testing service delivery. (Note: Ideally, this would be carried out as an integrated review of DSD across the cascade.)
Provide an opportunity for stakeholders to present existing examples of DSD for HIV testing implemented for adults and specific populations in their settings. Existing examples should present the core building blocks ("when", "where", "who" and "what") of each testing model. If a component has not been considered, this could be a useful starting point for adapting an existing model.
Present the outcomes of the national-, regional- and/or district-level desk review and mapping exercise on HTS.
Engage stakeholders in a plan for defining country-level approaches, taking forward local or district situation analyses, and plan local implementation strategies.
It is encouraged that the mapping process and review looks across the cascade and across specific populations.
STEP 3: DEFINE FOR WHOM HIV TESTING SERVICES WILL BE DIFFERENTIATED
Content under review
Use the three elements to consider the clinical characteristics, specific population and context to define for whom HTS will be differentiated, for a) case finding and b) both case finding and prevention.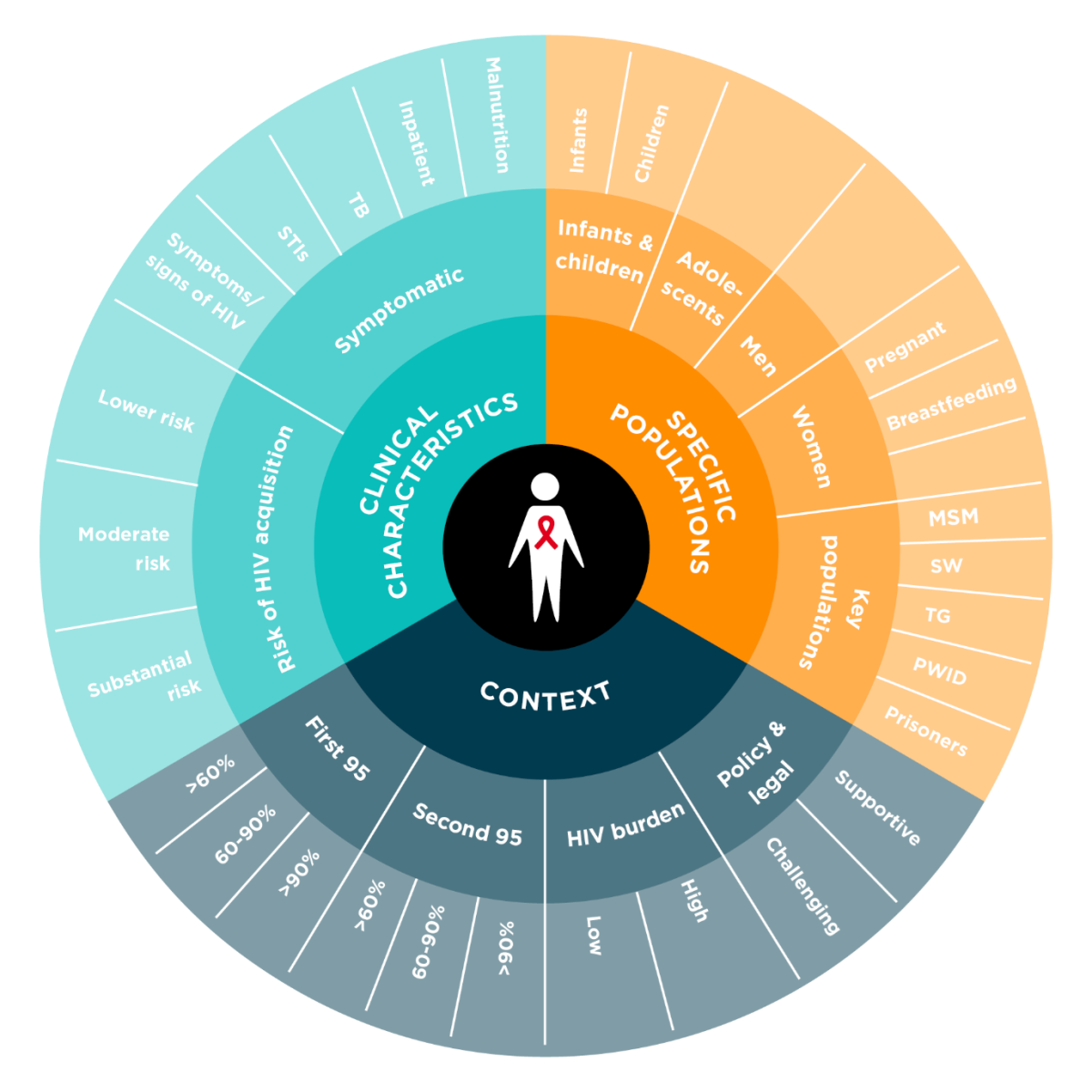 Context
In order to deliver quality person-centred HIV testing services, adaptations are required to how testing services are differentiated. In addition to the consideration of the setting, the prevalence of HIV and the percentage of people living with HIV who know their HIV status will also impact the appropriateness of different testing modalities.
Specific populations
DSD models for HIV testing should consider the challenges of specific populations and their access to the health system.
Differentiating HIV testing for specific populations can help improve access to HIV testing by addressing the structural barriers that specific populations often face.
Each specific population will require a unique and comprehensive approach to ensure access to HIV testing and linkage to HIV treatment or prevention programmes. Regular testing may be required for populations with increased vulnerability to HIV acquisition. However, frequent re-testing in the general population should be based on a clinical risk assessment.
Clinical characteristics
Mobilization efforts for provider-initiated HIV testing can be targeted at clients presenting with symptoms of HIV or conditions associated with a high HIV co-infection rate.
For those clients who are not immunosuppressed and have not presented with symptoms of HIV infection, facility- and community-based mobilization strategies will be required.
HIV testing should be integrated within clinical settings associated with high rates of co-infections. Clients attending care at these entry points should be a priority and HIV testing services should ideally be provided as a one-stop service (same day, same clinic, same healthcare provider).
Assessment of the client's risk of HIV should also be made to determine the recommended frequency of repeat testing and to prioritize the need for linkage to different prevention strategies.
To learn how to differentiate based on clinical characteristics, specific population or context, see the three elements from page 25.
STEP 4: EXPLORE EVIDENCE-BASED DIFFERENTIATED HTS DELIVERY MODELS
Content under review
STEP 5: ADAPT/IMPROVE/BUILD MODELS OF DIFFERENTIATED HIV TESTING SERVICE DELIVERY MODELS
Content under review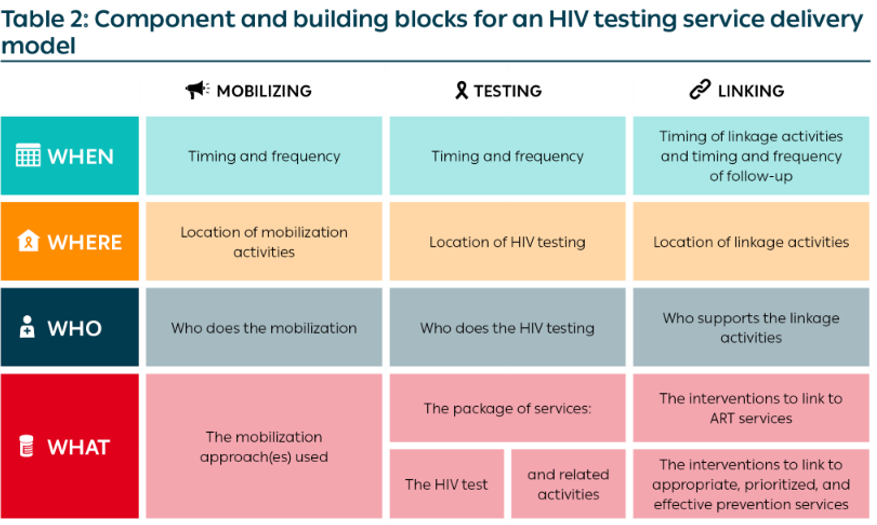 The Table below illustrates how the building blocks, along with the three components, should be used to design an HIV testing service delivery model: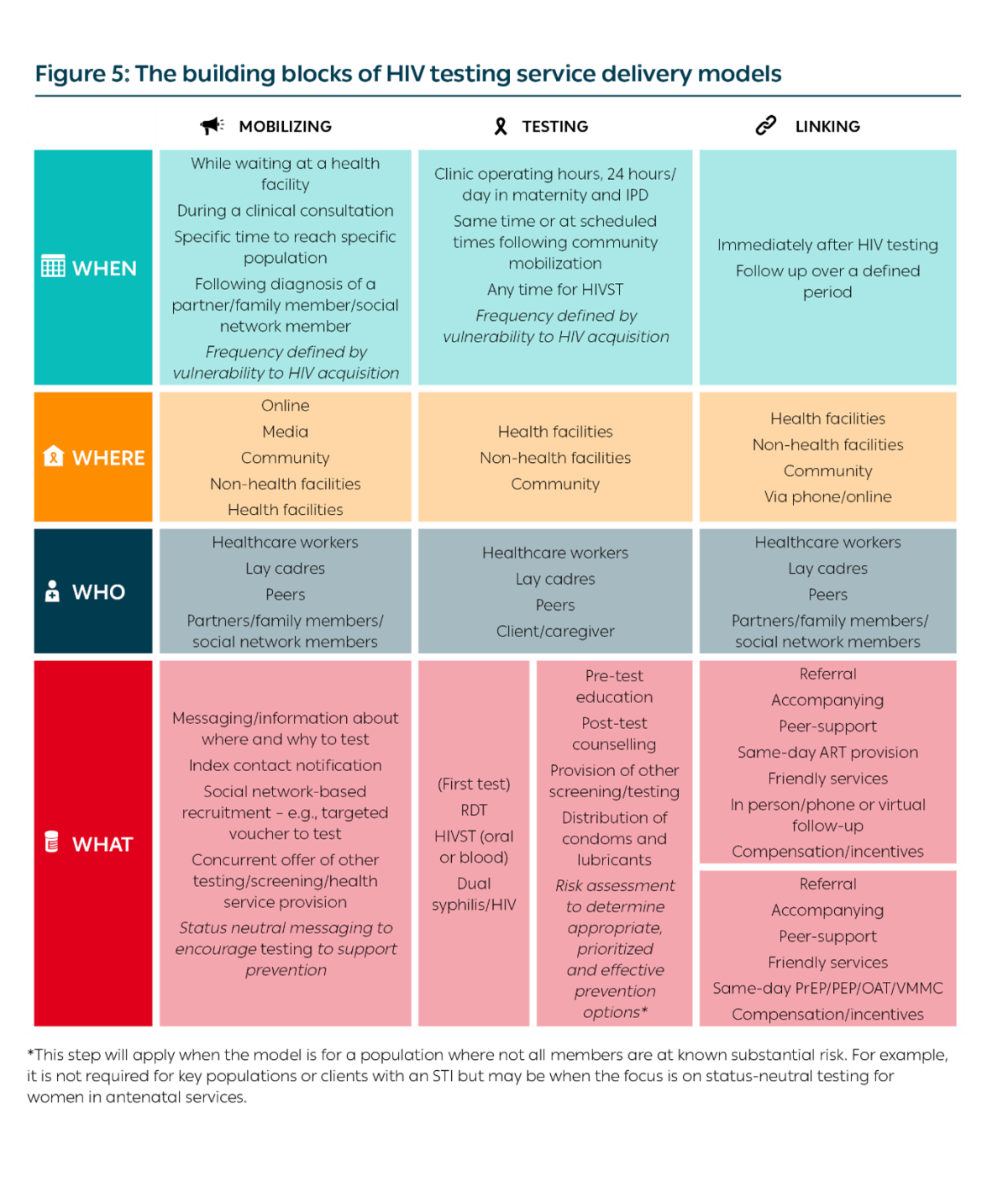 STEP 6: DESIGN A STRATEGIC MIX OF DIFFERENTIATED HIV TESTING SERVICE DELIVERY MODELS – ADAPT, BUILD OR DROP
Content under review
STEP 7: ROUTINELY EVALUATE DIFFERENTIATED HIV TESTING SERVICE DELIVERY MODELS TO ENSURE STRATEGIC MIX
Content under review
HIV testing service delivery models
Testing models can be divided into three categories – health facility, non-health facility and community. Additionally, HIV self-testing is described as its own category to highlight models that utilize this testing modality. However, it is important to note that HIV self-testing can be integrated within health facilities, non-health facilities and communities.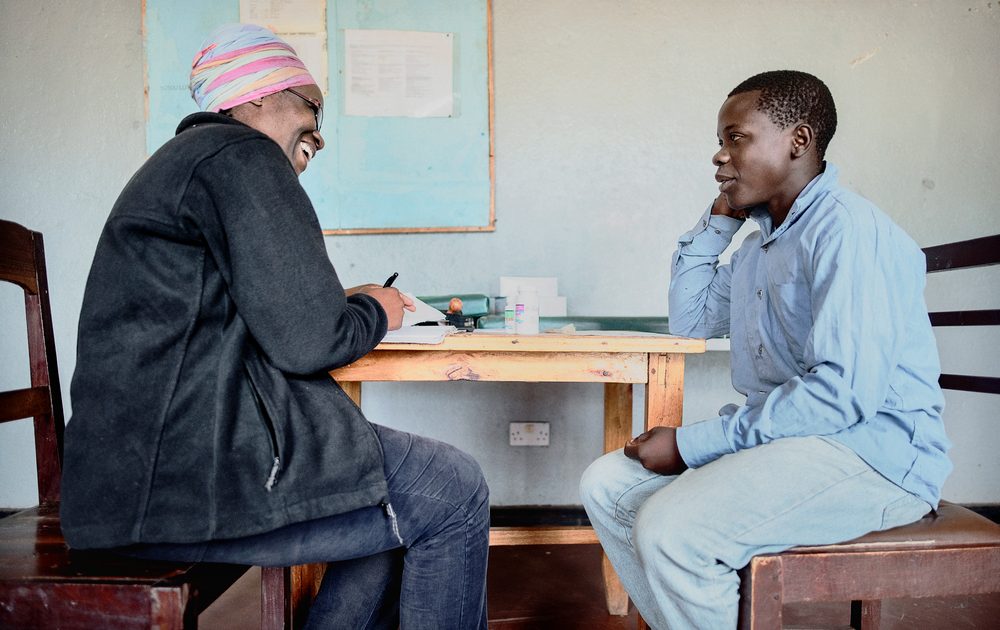 Health Facility
HIV testing occurs within a health facility and may be delivered as a standalone service or integrated into other facility health or screening services.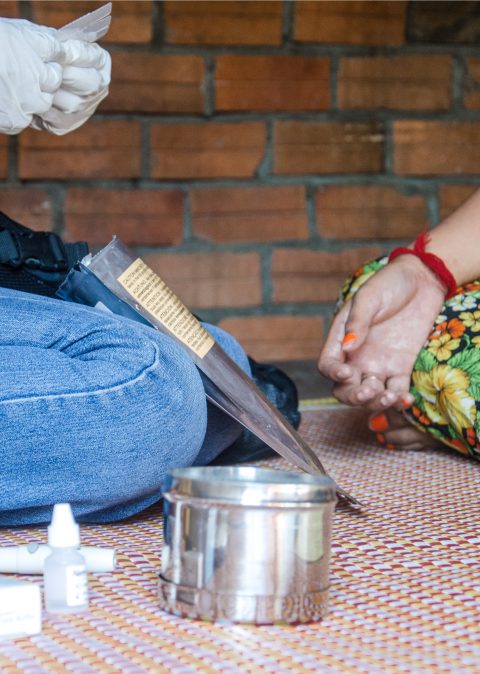 Non-health facility
Examples include HIV testing within workplaces, prisons and other closed settings, schools and education institutions and other facilities where the same population can be accessed on a recurrent basis.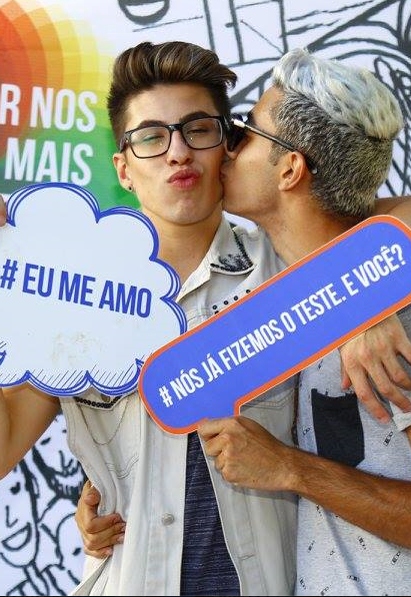 Community
This may be through home-based testing or door-to-door outreach, mobile outreach campaigns and testing in places of worship, parks, bars and other venues.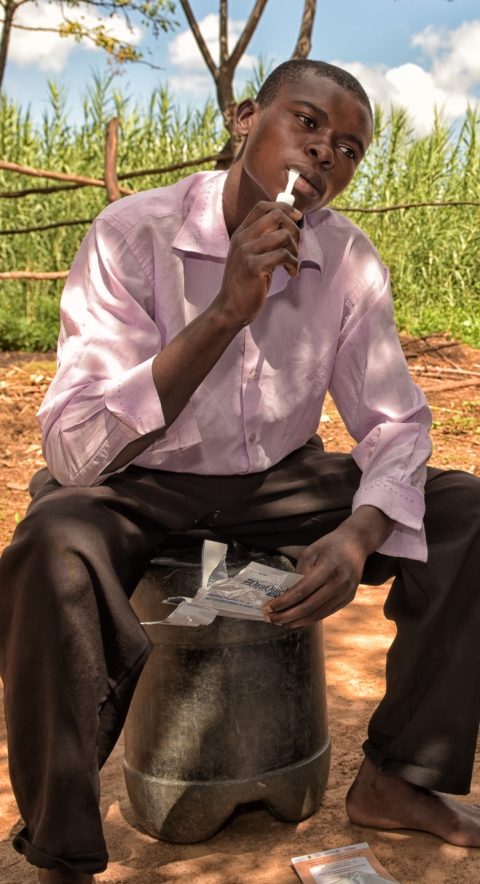 HIV self-testing
HIV self-testing should be considered as a testing modality alongside traditional testing by healthcare workers within any HIV testing delivery model.
DOWNLOAD THE FRAMEWORK
Framework currently under review
Click here to access the complete DSD framework for HIV testing services
Ask a question