In Zambia, the social network testing strategy has been an effective way to influence uptake of health services among hard-to-reach key populations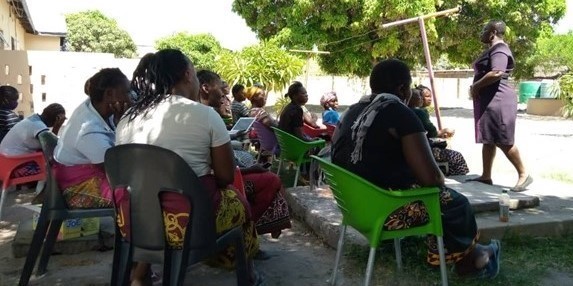 We spoke with Linah Kampilimba Mwango, Technical Director at Ciheb Zambia and Deputy Chief of Party for the Community Impact to Reach Key and Underserved Individuals for Treatment and Support (CIRKUITS) project, and Henry M Sakala, Key Population Technical Lead on the CIRKUITS project.
Linah and Henry, what led you to working on DSD?
Linah: I am a registered HIV nurse and public health practitioner. From 2002 to 2007, I helped expand Zambia's newly introduced antiretroviral treatment (ART) programme and oversaw the expansion of HIV treatment to over 50,000 people in 2016 through training and implementation of ART clinics across the country. I am passionate about teaching and mentorship and have trained and mentored healthcare providers to scale up community-based HIV prevention and testing services through four major guideline changes. I led the roll out of community-based differentiated service delivery (DSD) models for HIV, which reduced congestion at health facilities and introduced key population HIV service delivery in public health facilities. I also led a team of nurses and other clinicians to pilot pre-exposure prophylaxis (PrEP) for populations at substantial risk of HIV infection at two public health facilities and developed a DSD model for community PrEP initiation and refills.
Henry: I have a background in social sciences and basic health studies and a Master's degree in public health from the University of Sydney, Australia. I have over six years of experience providing programmatic and technical coordination and leadership of public health development programmes, including over five years of supporting CDC-funded HIV programmes targeting key populations. This is complemented by four years of providing social work services.
What do your roles look like on a day-to-day basis?
Linah: I am responsible for providing technical leadership in the coordination and supervision of the implementation of high-quality community-based HIV prevention and testing services, COVID-19 vaccination and community-led monitoring for recipients of care receiving HIV care treatment and services at public health facilities.
I support the organization in the design, roll out, management and implementation of community-based prevention interventions and related community-strengthening activities. I provide technical guidance and supervision to technical leads as they identify and reach individuals vulnerable to HIV and link them to HIV treatment and care services. I also ensure that best practices are implemented at scale and I disseminate results and lessons learnt at local and international conferences. Furthermore, I cultivate strategic relationships with donors, government ministries and other stakeholders.
Henry: I provide leadership in developing strategies and interventions to improve the quality and responsiveness of HIV prevention and treatment service delivery targeting key populations. I work with other technical leads in establishing prevention programmes that address the needs of key population members and their partners. Additionally, I participate in the continuous assessment of the needs of key populations and ensure that these are appropriately reflected in project activity work plans. I have been actively involved in the establishment and strengthening of relationships with key partners for key population programming, including other non-governmental organizations, civil society organizations and relevant government authorities.
What are some of the challenges faced by key populations and HIV testing and prevention in Zambia?
Sex work and same-sex sexual relations are criminalized in Zambia. Punitive laws and law enforcement practices make it more difficult for HIV programmes to reach sex workers, men who have sex with men and transgender people. Hostile environments and stigma towards key populations both at community and facility levels limit their access to HIV services due to fear of arrest, detention and discrimination.
There is an inadequate offering of key population-friendly services in the country and only a limited number of healthcare providers are trained in key population sensitivity, safety and security. The failure to observe human rights and lack of legal knowledge make key populations more vulnerable to abuse and violation of their rights.
Are there any challenges specific to trans people?
Trans people are often met with ignorance and micro-aggressions by healthcare workers, including being forced to assume the gender identity concordant with the sex assigned at birth to receive care. Trans people face transphobic slurs and discrimination in accessing care, including professional stigma among clinicians against treating trans people – this limits client access to gender-affirming care and surgery.
How does social network testing address the challenges faced by key populations in accessing HIV testing and prevention services in Zambia?
The social network strategy is based on the theory that people in the same social and sexual networks have similar risk behaviours. It involves identifying "recruiters", who include: (1) people living with HIV; and (2) people vulnerable to acquiring HIV. Recruiters must also be willing to recruit "network members", or members of their social or sexual networks, for HIV testing and prevention services. Once network members are recruited and receive an HIV test, they are given the opportunity to become recruiters for their own networks. The process of enrolling key populations to test and recruit their social and/or sexual network members continues, producing successive waves of recruitment that can extend into hidden networks and to hard-to-reach clients. Recruitment and testing of network members are encouraged and sustained through small monetary or non-monetary incentives.
In Zambia, this strategy has been an effective way to influence uptake of health services among hard-to-reach key populations. It has also proven to be a trusted modality for testing men who have sex with men and trans people.
Thinking of the DSD building blocks, what are the key components of this model?
Peer navigators and community health workers from key populations identify and invite key population members to use services; people who do so are given coupons to distribute to their network members. Once the network members access the various services they are given an incentive of USD 2 for transport reimbursement.
The services are provided in safe spaces in the community on a daily, weekly or monthly basis, depending on the type of service. Services include HIV prevention education, HIV psychosocial counselling, HIV testing and linkage to treatment and prevention services, PrEP initiation and refills, STI screening and treatment and condom and lubricant promotion and distribution.
Can you provide some detail about the specific role of community health workers in this model?
The community health workers support demand generation for key population HIV prevention and testing services through community mobilization and sensitization. They identify key populations who have not been reached with HIV services and distribute HIV self-test kits in the community. They are also tasked with home delivery of PrEP or antiretrovirals to community members and provide adherence counselling to clients on PrEP or ART. Lastly, they track clients who miss clinical or pharmacy appointments.