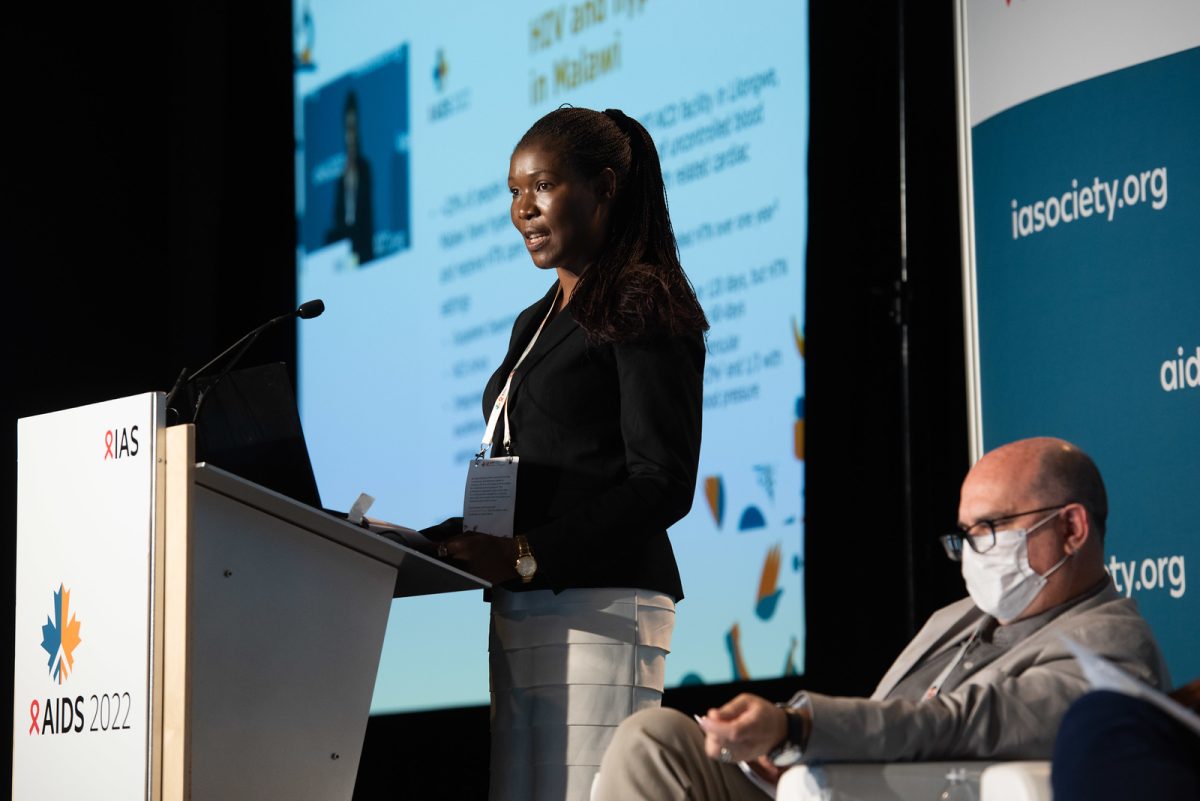 "DSD in action" interview: Integrating hypertension services within DSD for HIV treatment models in Malawi
"One of the big lessons from our work on integration of HIV treatment and hypertension is that people really like MMD and it was clear that the strategy does address some of the socioeconomic barriers at an individual level."
We spoke with Khumbo Nyirenda who works as Senior Implementation Science Manager at Partners in Hope (PIH) in Lilongwe, Malawi.
Khumbo, what does your role at PIH look like on a day-to-day basis?
I oversee all active and evolving research projects under the current US President's Emergency Plan for AIDS Relief (PEPFAR)-funded care and treatment programme, as well as other projects that are funded by the National Institutes of Health and the Bill & Melinda Gates Foundation. This involves being part of the planning and designing team for the research projects. I also take the lead in conducting a subset of implementation science research mainly focusing on health service utilization in Malawi and barriers to care experienced by people living with HIV and non-communicable diseases (NCDs). I work hand in hand with the PEPFAR implementing teams to liaise and orient the clinical teams about specific research projects and how they are going to be implemented within the many health facilities under PIH's care and treatment mechanism across nine districts in Malawi.
How did you become engaged in the HIV response in Malawi?
In 2012, I started working as a research assistant on a project evaluating reasons for disengagement from Malawi's then-new prevention of perinatal HIV transmission programme Option B+, in which pregnant and breastfeeding women started antiretroviral therapy (ART) for life. From the first few days of training, it became clear to me that I wanted to develop my career in HIV research. As a result of my experiences working on the OPTION B+ project, I was hired as a research coordinator for PIH's USAID-funded project, Expanding Quality Improvement (EQUIP) for HIV/AIDS, in Malawi.
What are the key components of the PIH service delivery model to integrate hypertension services within DSD for HIV treatment models in Malawi?
PIH implements a wide range of DSD models for HIV treatment, including multi-month dispensing (MMD), using up to six-month MMD and community ART distribution. These DSD models have been proven to reduce the risk of disengagement from care and also reduce the cost of care to an individual. Formative work from our group showed that people living with HIV and hypertension do experience these barriers as well, but did not have access to DSD models. We believe that integration of hypertension into DSD for HIV treatment models can reduce barriers to care for individuals. Our group is conducting implementation science projects that aim to assess the integration of hypertension into DSD models for HIV treatment, including MMD and medication alignment. Medication alignment means that the same amount of hypertension medication and ART should be given at the same time so that there are no extra visits for hypertension refills in between ART visits. To this end, we designed and are implementing the Makonda study, which is looking at preferences for hypertension care in people living with and without HIV in Malawi. The objective of this project, funded by the NIH Fogarty International Center, is to conduct a discrete choice experiment (DCE) with 1,000 people recruited from 14 facilities in Malawi.
What are the key lessons learnt from implementing the PIH project on hypertension integration within DSD in Malawi?
Overall, participants in our study placed high value on adequate stocks and MMD of blood pressure medication. People living with HIV and hypertension had high rates of viral suppression but very low rates of blood pressure control. The trends for blood pressure control were better for the group that had complete medication alignment.
One of the big lessons from our work on integration of HIV treatment and hypertension is that people really like MMD and it was clear that the strategy does address some of the socioeconomic barriers at an individual level. However, despite MMD and alignment of ART and hypertension medications, blood pressure control levels are still quite low, suggesting that we do need additional interventions to be able to positively influence clinical outcomes like blood pressure control.
One other issue is that care for hypertension in Malawi is received in diverse settings: some receive care at outpatient departments, others at specialized NCD clinics and others at integrated HIV-NCD clinics, which are centres of excellence. We observed that although our study enrolled participants from 14 facilities, 92% of the people living with HIV and hypertension were recruited from three fully integrated ART-NCD clinics in Lilongwe because we could not find people in other clinics, and this might mean our study sample is not a true representation of the population in Malawi. It also suggests that routine care for hypertension may not be available in most ART clinic settings outside of the urban centres in the country.
At a policy level, what needs to be done to support integration of NCDs into DSD for HIV treatment models?
We need more evidence that integration of HIV treatment and NCDs, especially hypertension, works for the health facilities and systems in terms of supply of commodities and also showcasing evidence that people do really want and appreciate DSD models that integrate MMD and medication alignment for hypertension. More research around other interventions that can influence clinical outcomes, like blood pressure control, would facilitate decision making at the policy level.
You recently attended AIDS 2022 in Montreal. What were the highlights for you? What will you now be taking from the conference and implementing in your work with PIH?
The highlight for me at AIDS 2022 was attending the satellite, "The science of DSD: Where we are and where we are going". I got to fully understand the World Health Organization (WHO) recommendations that are available for countries regarding service delivery. The session enhanced my realization of the importance of our work in Malawi on integration of hypertension into DSD models for HIV. This is an area where WHO still has conditional recommendations, which means that more evidence is required for countries to be able to say that it works and that the recommendation is safe and feasible and all settings can implement it. So, scaling up our work to be able to inform a strong recommendation around integrating hypertension treatment into DSD models will be the next step. I look forward to continuing to work on this important topic.